Finden Sie hier die Liste mit den gefilterten Produkten auf Basis Ihrer aktuellen Auswahl.
Funktion
Emulator
Flash-Programmer
Target CPUs
Beratung
Lassen Sie sich beraten, nutzen Sie unser Formular, wir melden uns umgehend bei Ihnen zurück. Oder rufen Sie an:
+49 251 98729-0
JTAGjet-C2000F-ISO
JTAG-Emulator für alle TMS320 C2000™, Concerto™, Delfino™, Piccolo™ MCUs
Highlights:
perfekte Integration in CCStudio 3.x, 4.x, 5.x bis 5.5

inkl. standalone GUI/Batch-Mode Flash-Programmer


High-Speed

galvanische Trennung

stabile Hard- und Software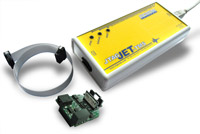 JTAGjet-C2000F-ISO ist der High-Speed JTAG-Emulator (In-Circuit-Debugger) für alle TMS320 C2000™, Concerto™, Delfino™, Piccolo™ Controller von Texas Instruments.
---
Durch serienmäßige galvanische Isolation der JTAG Schnittstelle mittels des JTAG-Frontends (Probe) ist der Emulator und PC optimal geschützt. Ideal zur Entwicklung von Leistungselektronik!

---
JTAG-Emulator für TI C2000 MCUs
Perfekt integriert mit Code Composer Studio

V 3.1, 3.3, 4.x, 5.x

robust

,

kompakt

und

preiswert

Stabile Treibersoftware

, arbeiten Sie ohne Unterbrechungen
Schnelle

USB 2.0

Verbindung zum Host PC, High-Speed Download bis zu 1MByte/s
Top Performance: bis

zu 15 mal schneller wie vergleichbare Emulatoren

kompatibler Ersatz für alte XDS510, XDS510PP Emulatoren
Für

alle

Texas Instruments TMS320

C2000 MCUs

F24x, LC240x, LF240x


F28xx, F2801x

F2802x, F2803x

Piccolo™

F2804x

F2823x, F2833x

C2834x

Delfino™

optionaler Support für die Concerto™ Serie F28M35x

---
Flash Programmierung ohne CCStudio
Die Flash-Programmier-Software

Flasher-C2000

von SIGNUM ist optimal für den Einsatz in der Produktion geeignet, wo Code Composer Studio völlig fehl am Platze wäre.

Command-Line-Modus

(Batch-File) und Windows

GUI-Modus

Ideal für Prüfeld und Fertigung
Mehrere

Emulatoren kaskadierbar an einem PC

Lizenz zum Nachrüsten für vorhandenen Emulator oder im JTAGjet-C2000F-ISO inkl.
Software Features
JTAGjet-C2000 is

fully compatible with Code Composer Studio

: It installs directly into the CCS directories and becomes visible as JTAGjet Emulator in the CCS Setup utility and preconfigured with many C2000 targets. Setting up to work with JTAGjet is just as easy as setting up a TI emulator – just drag and drop the preconfigured target and emulator configuration and start CCS

Flash Programmer utility

, does not need CCS!

Change JTAG clock

even when the CCS is running

Detects

and graphically shows

all devices on the JTAG chain

.
Graphically

monitors all pins

on the JTAG header
Hardware Features
Supports

all TI TMS320 C2000

MCUs + DSPs

USB 2.0 high-speed

port (480 Mbps) provides faster downloads
Supports all

on-chip breakpoints

and

RTDX

Powered by the USB port – no external power adapters needed
3 LEDs provide status of target power, JTAG activity, PC host activity and emulator power
JTAG Chain Device Detection
For custom made boards with more than one device on the JTAG chain, JTAGjet can detect all devices on the chain which is necessary in to configure the CCS debugger.
Variable JTAG Clock
JTAGjet-TMS supports variable JTAG clock. It defaults to 10 MHz, but may be set as low as 1 kHz (for slow FPGA prototypes or power saving devices) to 30 MHz to provide faster application downloads and quicker Flash programming.
Auto-Sensing JTAG voltage
JTAGjet-C2000 comes with a detachable, active and isolated JTAG probe to better accommodate long scan chains and various JTAG pinout standards and low voltages. The standard probe comes with 14-pin XDS510 & XDS560 compatible header and supports targets from 3V to 5V.
complete C2000 support
Support of all Texas Instruments C24x & 28x Digital Signal Controllers!
Flasher C2000
Flasher-C2000 is a software utility that enables Signum JTAGjet emulators to program the on-chip Flash memory of the Texas Instruments C2000 family without Code Composer Studio or special purpose software from other vendors, only JTAGjet needed!
GUI

and

command

driven interfaces
No CCS required
fast programming & erase algorithms
Flash depletion recovery
Blank check
Save Flash to file
Flash security support
The Signum flash programming software, or "flasher," offers two modes of operation:
GUI Interface Mode This mode displays a dialog box that enables the user to select the DSP to be programmed and set all the programming parameters in a well designed and easy to understand format. This user interface (see the image on the right) is the same as that of the CCS Flash Programmer plug-in, which practically eliminates the learning curve for the users who are already familiar with the plug-in.
Command Line Mode This mode of operation uses commands generated with the GUI interface or created by the user in the form of batch files to program the C2000 DSP. Since once set up, it does not require any software skills or DSP knowledge on the part of the operator, this mode is best suited to flash programming in an automated production environment. To program a large number of devices, the operator simply click an icon or executes a batch file that guides him or her through the entire process. Shown below is an example of the command to program a single TMS320F2808 device with the main.out image file.
C> Flash2000 -use prg2808.txt -f main.out
In our example, all erase and programming parameters are stored in the prg2808.txt file.
Evaluierung
Möchten Sie sich selbst ein Bild von der Leistungsfähigkeit machen und den Emulator auf Herz und Nieren testen?
Nichts leichter als das. Kontaktieren Sie uns, gerne stellen wir Ihnen ein Leihgerät (sofern verfügbar) kostenlos zur Verfügung oder räumen Ihnen eine Rückgabemöglichkeit bei Bestellung ein.
>>> Preise anfragen
Embedded Tools GmbH
Fon: +49 251 98729-0 / Fax: -20
E-Mail info(at)embedded-tools.de
---
Wie haben Sie von uns erfahren: