Finden Sie hier die Liste mit den gefilterten Produkten auf Basis Ihrer aktuellen Auswahl.
Beratung
Lassen Sie sich beraten, nutzen Sie unser Formular, wir melden uns umgehend bei Ihnen zurück. Oder rufen Sie an:
+49 251 98729-0
Micro Server (M2M)
für Browser basierte GUI und M2M Systeme
Real Time Logic konzentriert sich auf die Entwicklung von Device Management Toolkits für Embedded-Geräte. Das Plugin basiert Barracuda Embedded Web Server SDK vereinfacht und verkürzt den Entwicklungszyklus für Geräte mit Bedarf an Remote-Management und / oder Anzeige erheblich.
The Micro Server makes it possible to implement browser based GUI and/or machine to machine (M2M) communication in any Ethernet enabled micro controller/processor and environment.
The GUI application and/or the M2M application is managed by the Barracuda Embedded Web Server running on, for example, a larger embedded system, a host computer, or on an online cloud server. The Barracuda Server can manage multiple operators working simultaneously with the connected Micro Servers. A real-time fully bi-directional asynchronous communication channel is maintained between the Micro Servers and the Barracuda Server. This communication channel can optionally be secured by SharkSSL. The figure to the right with the firewalls illustrates how our technology can be tailored to bypass any barriers.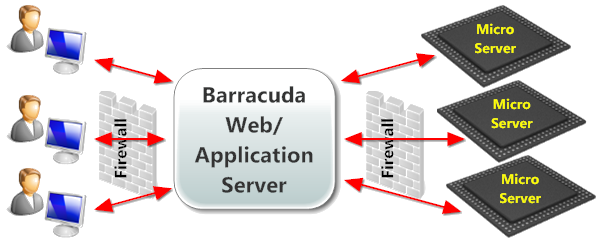 The Micro Server solves a number of problems related to browser based device management.
In particular, the Micro Server:
enables devices with extremely limited internal memory to be managed via a web based user interface. The Micro Server can be as small as 25kB ROM.
enables multiple Micro Server devices to be managed via one user interface and one IP address. This simplifies device management when an operator must simultaneously manage multiple devices.
enables the devices to be either a client or a server. A Micro Server running in client mode can, for example, bypass a firewall located in its deployed location.
enables external management to within protected networks such as to an internal hospital network. The connection bypasses firewalls and proxies in the protected network.
enables cryptographic authentication, encryption, and integrity. Advanced security measures are required for Micro Servers connecting out to a Barracuda Server located on the Internet. Note: security and encryption may not be required if the Micro Servers and the Barracuda Server run on a private network. The Barracuda Server may also be connected to two networks, where the first network is the private Micro Server network (M2M) and the other network is connected to the Internet.
enables multiple operators to manage the Micro Servers simultaneously. Applications designed for the Barracuda Server can easily be designed to securely allow multiple operators working on shared resources.
---
An external application server is required because devices with internal memory are unable to run modern web based user interfaces. The web based GUI applications are simply too big to fit into the internal memory.
The Barracuda Embedded Web/Application Server is an embeddable server, delivered as a "C" library, designed to be embedded into a computer program. The above figure shows one of many possible configuration options for an application linked with the Barracuda Server. The benefit of using our Lua Server Pages (LSP) scripting engine plugin is that it drastically shortens the development time. In the above figure, in "Lua Application 1", the Barracuda Server GUI application and M2M application are designed in the Lua scripting language. The device application (Micro Server) is implemented in "C" code.
---
Automatic Data Encoding and Decoding
The asynchronous communication channels between the Micro Servers and the Barracuda Server automatically marshal (encode) and unmarshal (decode) data structures interchanged between the endpoints. The automatic encoding and decoding can be between "C" programs and/or between "C" programs and Lua scripts running in our Lua virtual machine plugin.
The device (Micro Server) side of the asynchronous communication channel is compatible with any TCP/IP stack/device implementation, including hybrid hardware/software solution

>>> Preise anfragen
Embedded Tools GmbH
Fon: +49 251 98729-0 / Fax: -20
E-Mail info(at)embedded-tools.de
---
Wie haben Sie von uns erfahren: