Finden Sie hier die Liste mit den gefilterten Produkten auf Basis Ihrer aktuellen Auswahl.
Beratung
Lassen Sie sich beraten, nutzen Sie unser Formular, wir melden uns umgehend bei Ihnen zurück. Oder rufen Sie an:
+49 251 98729-0
Phoenix bietet Boot Time Optimization für Windows® 8 an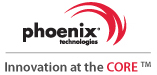 Phoenix Technologies Ltd., the global leader in UEFI firmware technologies and products, today announced boot time optimization service for Windows® 8 notebooks, Ultrabooks, and tablet PCs based on Phoenix SecureCore TechnologyTM (SCT) 2.2.

Fully compliant with the latest UEFI specification (version 2.3.1) and the advanced features of Microsoft® Windows® 8, Phoenix SCT 2.2 is the leading UEFI firmware solution to pass 100% of the requirements of Microsoft® Windows® Hardware Certification Kit (WHCK).

"As the technology-leading independent BIOS vendor, we continue to advance our products and services in support of Phoenix's vast OEM/ODM customer base with our superior Windows® 8 boot time optimization service. The innovative firmware features powered by the latest UEFI specifications required by Windows® 8 will enable ultra fast boot time and unparalleled user experience for the next generation of mobile devices," said David Everett, Senior VP of Field Operations.

Boot time is a key requirement for Windows® 8 and as such, Phoenix Technologies has spared no effort in optimizing BIOS Power-On Self-Test (POST) time and platform initialization time to the OS. Phoenix not only successfully meets Microsoft® requirements of Fast Boot and Secure Boot for Windows® 8, but also provides a boot time optimization service based on customer hardware and firmware configurations using advanced, proprietary-techniques based on the latest UEFI specifications and Microsoft® WHCK requirements.

"While there are many factors that will slow down boot time, sophisticated firmware engineers know how to improve performance in each particular stage of UEFI BIOS initialization without compromising OEM/ODM firmware features. Phoenix teams produced very impressive results, including record-breaking boot time on Windows® 8 platforms by offering superior optimization service through our engineering excellence and commitment to customer satisfaction," said Terry Chen, Senior Director of Engineering at Phoenix Technologies.