Finden Sie hier die Liste mit den gefilterten Produkten auf Basis Ihrer aktuellen Auswahl.
Beratung
Lassen Sie sich beraten, nutzen Sie unser Formular, wir melden uns umgehend bei Ihnen zurück. Oder rufen Sie an:
+49 251 98729-0
Crank Software auf der CES 2018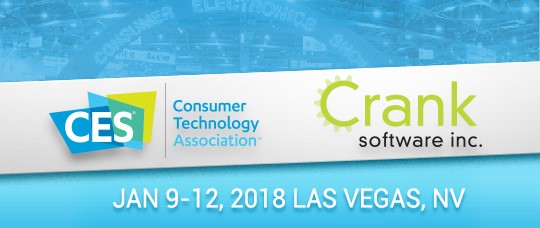 CES is well-known as an exciting hub for innovation in consumer technologies. The event is the perfect meeting place to talk with customers and showcase the latest Storyboard Suite features and capabilities.
Crank Software will be well-represented at CES, with a range of multi-market application GUIs designed and developed using Storyboard Suite featured in a number of booths, including QNX, STMicroelectronics, NXP, Visteon, and more.
We will be at the show and would be happy to chat with you and provide a sneak peek of the functionality we've been working on for our next release of Storyboard Suite, which is right around the corner. Send us an email if you'd like to set up a meeting to discuss how Storyboard can be a part of your next embedded GUI project. We hope to see you at the show!