Finden Sie hier die Liste mit den gefilterten Produkten auf Basis Ihrer aktuellen Auswahl.
Beratung
Lassen Sie sich beraten, nutzen Sie unser Formular, wir melden uns umgehend bei Ihnen zurück. Oder rufen Sie an:
+49 251 98729-0
Accelerating UI development with Crank Software & Embedded Artists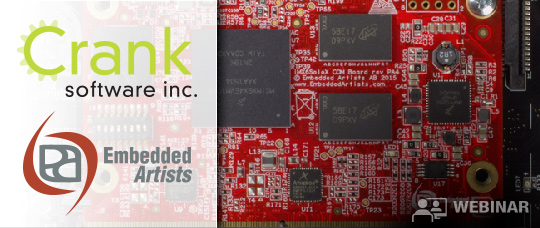 With increasing demand for rich, engaging user interfaces (UI) across a variety of applications, finding ways to simplify development and accelerate time to market helps your products stand out against the competition. By keeping designers engaged and developers in control, working together on high-performance, low-power systems, you can deliver incredible user experiences that satisfy all your user scenarios and cost targets.
Whether you're an embedded user interface (UI) designer, developer, or team lead, you've probably come across these issues before:
Designer: The final product doesn't look like the design I created
Developer: Finding or building a board that fits our functional, performance, and environmental requirements is nearly impossible
Team lead: Do I delay the release to get the UI design just right? Can I accept the tradeoffs between design and development? Does my budget allow for the board my developer wants to build?
The embedded UI development process shouldn't be this hard and, in fact, it's pretty easy to overcome all these issues and more.
Join Crank Software and Embedded Artists to learn how to bring designers and developers together on low-risk, low-cost hardware using Storyboard Suite on NXP i.MX 7-based computer-on-modules (COM).
Crank Software will share features in Storyboard Suite that support ease-of-use for designers and simplify the challenge of inevitable design churn and iteration. This includes design import and re-import from Adobe Photoshop, creating vibrant animations via the built-in timeline, and seeing how to quickly deploy and debug your app on real embedded hardware.
Embedded Artists will explain how their COM boards and display adapter solutions accelerate development across display types and resolutions, making it easy to focus on your core business and deliver applications faster.
You will learn:
How Storyboard Suite differs from traditional UI methodologies to reduce churn, deliver faster, and support multiple platforms
How an integrated board solution saves time and reduces risk
How fast design, iteration, and deployment work via a live demo of a Storyboard Suite application deployed to an Embedded Artists platform
Here you can register for the webinar on 1. June 2017.